An educator can use the progress report for a student in the LMS to create strategies to improve their mastery and pacing in a particular course.
For the steps to view a progress report, click here.
Mastery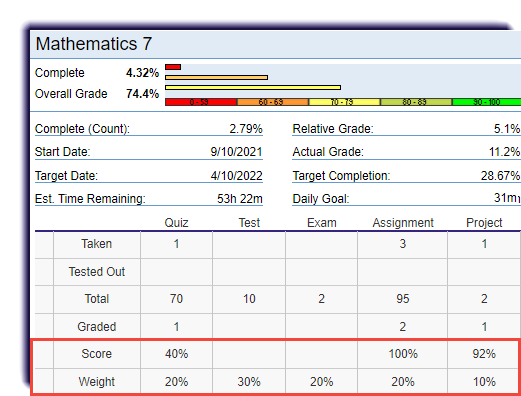 Use the breakdown of average score by activity type to inform intervention.

Some questions to think about:

Where are the lowest average scores?
What kind of interventions in content or learning can be provided to the student?

Example: If a student is excelling in the assignments, but doing poorly on quizzes, test taking strategies may be an appropriate intervention.

Use the breakdown of grade weight by activity to inform intervention.

Some questions to think about:

Which type of activity has the most weight?
Which type of activities would have the most impact on the students grade?

Example: If allowing redos or retakes, make sure you are assigning the types of activities that will have the greatest impact on improving their overall grade.

Share data with students.

Provide student choice in they want to focus energy in improving mastery of content.
This type of breakdown can help the student learn more about how they learn. Ask the student what strategies they are currently using and provide support on new ones to try.
Example: Focus on redoing activity types that will have the most impact. Look at low average grades on activity types AND weighting.
Pacing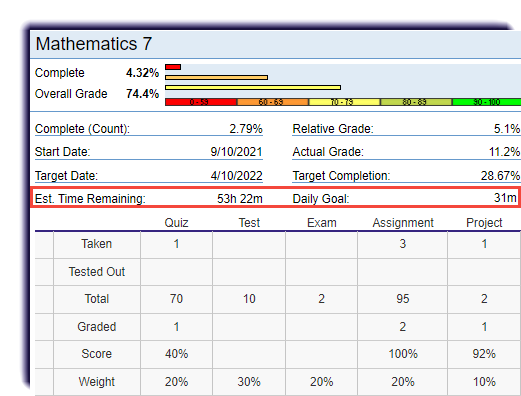 Use the information on estimated time left and daily goal to help students set pacing.

Remember that the daily goal is time spent making forward progress: students may need to spend additional time reviewing for quizzes, tests, etc. or working on projects.